Donna Simpson, a 42-year old woman from New Jersey, weighs 600lbs (273kg). At 5'4″, that gives her a BMI of 103 – she'd need to lose just over 450lbs to get down to a healthy weight.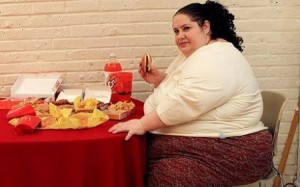 But Donna Simpson wants to gain weight… hoping to become the fattest woman in the world and weigh 1,000lbs – that's half a ton.
Donna's story has hit worldwide headlines. The Telegraph newspaper in the UK described Donna's plans as an "unusual ambition" – but most commentators have had stronger words to say, criticising Donna's irresponsibility and suggesting that she needs psychiatric help.
Donna has a husband, who weighs a normal 150lbs but who has explained he is attracted to large women: the couple met online on a dating site for plus-size people. She also has two kids, and many comments on this news story have centered on the troubles that these kids might face in the future.
Donna's weight-gain diet involves whole cakes, bags of donuts, and up to 70 big pieces of sushi at a sitting. The family has grocery bills of $750 a week.
In a world where celebrity is everything, Donna seems to be hoping for notoriety and fame through fatness. There's something of the freak-show or circus about this story: people are expressing horror at Donna's current size and her aims to put on weight — but we're also somehow fascinated: Donna runs a website where people pay to watch her eat and bathe, and this clearly forms part of her motivation to gain even more weight.
Donna was overweight from childhood, though lost weight on diets as a teenager. As an adult, she decided she was comfortable with her weight.
I love eating and people love watching me eat. It makes people happy, and I'm not harming anyone.
Is Donna simply exercising her right to choose what she looks like? Most of us would agree that sizeism should be avoided — but when should we intervene and speak up about people endangering their own health?



Where to go Next??? Here is More Cool Stuff You Have to See