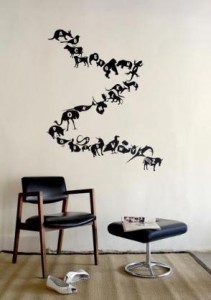 Popular Wall art Items
A number of product options exist with some of the most common choices being the canvas print, the filmstrip montage, and the photo montage. It is also possible to have your image turned into one of a number of different pop art displays or have a colour image converted into a black and white one.
Choosing The Right Photograph
Regardless of the type of item you choose, the key is picking the right photograph. If you're choosing specifically for the home then the subject of the photograph should be in keeping with the general look and style of the room it will be in. Photographs or images that are based on similar colours to the existing décor of your room can also make a superb addition to any room in any house.
Wall art Choices
You don't have to use photographs for some of the wall art items and you can use digital images, scans, or even your own art instead. Imagine having your favourite sketch scanned and turned into a huge canvas print to hang on the wall in your office or in the front room. Alternatively, imagine converting a picture of your son or daughter into a Warhol pop art print for the games room or the dining room. The possibilities go on and on and are really only limited by your imagination so you can go as wild as you like.
Source: http://www.articlesbase.com/visual-art-articles/turn-your-photos-into-wall-art-1144747.html
Written By: Sarah Williams
Photo Source: http://search.independent.co.uk/topic/banksy-mural



Where to go Next??? Here is More Cool Stuff You Have to See